Antioxidants help slow down the signs of aging and protect our bodies from disease. Check out this list of the best antioxidant foods, plus recipe ideas to get you cooking. The infographic below breaks these top 10 foods down into those that are most beneficial for men and for women. But really, anyone can benefit from eating these antioxidant foods.
10 Best Antioxidant Foods
1. Tomatoes – Bright red tomatoes are rich in lycopene, an antioxidant linked to all sorts of awesome health benefits including healthy bones.
2. Peaches – Lutein is the antioxidant star when you eat a peach. We usually think of vitamin A as the antioxidant superstar for eye health, but peaches and other lutein-rich foods actually do some important work in supporting healthy vision.
3. Berries – Berries are loaded with powerful antioxidants called anthocyanins. There's research linking anthocyanins to heart health, reduced risk of certain cancers, and cognitive function.
4. Kale – Loaded with vitamins A, C, and lutein. This dark-and-leafy protects your body from high cholesterol and cancer. It's a powerful anti-inflammatory food. You can get similar benefits from eating collard greens, so mix up your greens for the maximum benefit!
5. Plums – Plums contain powerful antioxidants that protect you from cell damage, and their high vitamin C content adds an extra layer
6. Bell Pepper – Red bell peppers are your best bet – they contain more vitamin C than an orange!
7. Cantaloupe – Another eye health superstar, cantaloupe is packed with beta-carotene. This humble fruit that you probably picked out of your last fruit cocktail also helps you avoid metabolic syndrome.
8. Garlic – Garlic is full of healthy compounds, and there's research suggesting that it can help prevent degenerative brain diseases like alzheimers.
Related: Growing Garlic in Your Fall Garden
9. Cherries – Sweet cherries have a slew of health benefits from improving heart health to offering better sleep.
10. Green Tea – Teas – especially green tea – contain antioxidants called catechins that are even better than vitamins C and E at preventing cell damage and protecting us from disease.
Here's the graphic with a little bit more information about each one. At the bottom of the page, I've shared links to recipes using each of these top antioxidant foods, so don't forget to scroll all the way down!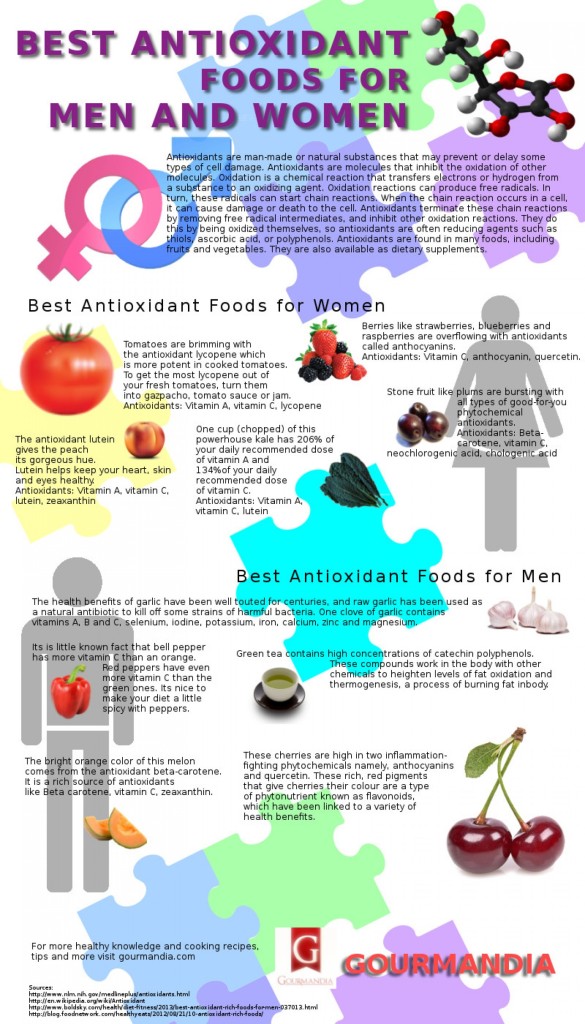 Best Antioxidant Foods: 10 Delicious Recipes!
2. Peach Salsa with Cucumber and Mint
3. Anti-Aging Goji Berry Muffins
5. Raw Plum Pie
6. Raw Broccoli Slaw with Bell Peppers
9. Spinach-Quinoa Salad with Cherries and Almonds
Image Credits: Berries photo via Shutterstock; Infographic via Visual.ly